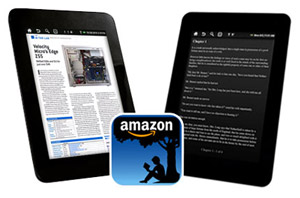 Velocity Micro has quietly introduced a new 7″ Cruz Reader Tablet. And get this: unlike the previous Cruz Reader that connects with the Borders ebook store, this new one ships with the Kindle app as the main ebook provider of choice.
While you can get the Kindle for Android app on virtually any app-friendly Android device running 1.6 or higher, it only comes pre-installed on a few smartphones and laptops. Velocity Micro might be making a big move by getting the Amazon Kindle name on their device, but it needs to perform well in order to be of any success.
That being said, let's take a look at the details of the Cruz Reader T301 to see if it's got a chance of succeeding.
First good thing is it comes with some upgrades over the previous model. The most notable improvement is the implementation of a capacitive touchscreen instead of resistive for improved responsiveness and touch capability. It has also gotten a considerable boost of internal memory from 256MB to 4GB, plus the 4GB SD card.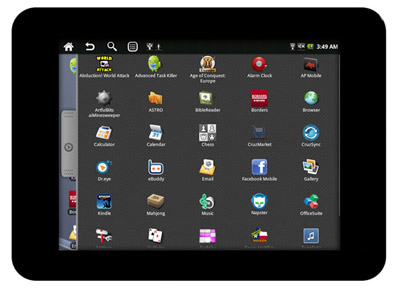 Velocity Micro, however, neglects to mention most of the finer details so it's unclear if there are other hardware improvements or if this new Cruz Reader essentially has the same guts as the previous model. The battery life, RAM, dimensions, and specs are all listed as the same. There's no mention of processor type, and worse it says this specifically in the help section of the Cruz Reader website: "No. The Cruz Reader or Tablet will not support any version of Android beyond Android 2.0."
That in itself is going to be a problem in a couple of months when all the other Android tablets will be running 2.2 and higher.
So far it's not looking all that great for the Cruz Reader T301, especially when it's priced over $100 more than the original Cruz Reader. On Amazon, the Cruz T301 is listed at $249 and the Cruz Reader is $140 (and as of this writing it's on sale at Borders for $109).
Is a capacitive touchscreen and 3.75GB more memory worth all that extra cash?
Regardless, you can't judge a book by its cover so we'll have to wait for the reviews to start rolling in to know exactly how the new Cruz Reader performs.
Fortunately, since I never got around to reviewing the other Cruz Reader, I fully intend to review this model, and will have the review posted toward the beginning of January.
In the meantime there are a few reviews at Amazon, but it's hard to judge because most people are new to Android and don't have enough knowledge about it to know how everything is supposed to work—there's definitely a learning curve with Android tablets.
Cruz Reader T301 Specs
7″ TFT LCD capacitive touchscreen
800 x 600 resolution; 4:3 aspect ratio
Android 2.0 operating system
256MB RAM, 4GB internal, 4GB SD card
WiFI – 802.11n
Built-in Kindle App/eBook Store
Up to 10+ hour of battery life
Cruz Market App Store
Pre-installed apps: alarm, astro, web browser, calculator, calendar, dictionary, email, messenger, facebook, office suite, twidroyd, wallpapers
Plays videos, images, and music (formats depend on apps)
Dimensions: 7.5″ x 5.6″ x .57″