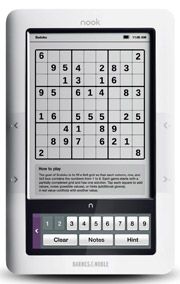 Barnes and Noble has again added some manufacturer refurbished Nooks to their eBay store.
The Nook WiFi is selling for $119 and the Nook 3G for $139. That includes free shipping and a 1 year warranty.
Last time they didn't last very long so if you've been waiting on them this is the time to pick one up.
But first, you might consider getting a new one from Best Buy. I've got some inside info that I'm probably not supposed to share until tomorrow, but I don't care.
Best Buy is going to offer $20 off on the Nook 3G and Nook WiFi this week from 12/19 – 12/25.
Update: It turns out the Best Buy deal requires you to buy a cover and light to get the $20 off—lame.