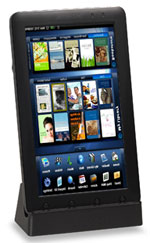 This is a quick note to mention that I posted the review for the 9″ Pandigital Novel today. It can be found on the Pandigital Novel Review page, along with a video walkthrough.
It's a lot like the 7″ Pandigital Novel (white) from a software standpoint. The added hardware buttons and stylus are nice and so is the larger screen, but it does have its drawbacks.
Please feel free to post questions and comments below about the 9″ Pandigital Novel, or if you need some help with anything. Make sure to check the review for details about how to install apps.