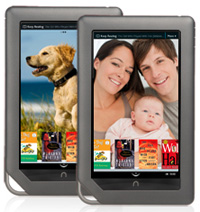 I've been experimenting with the video player that comes with the Nook Color (no hack required) and have found a quick way to set up movies and videos to watch on the Nook Color without a lot of complicated steps.
This method outlined below isn't by any means the only way to set up videos for the Nook Color, but is the way that I've found works effectively and is easy to set up. The videos run smooth and look great.
The first thing you are going to need for this method is a free video software program called Handbrake.
Here are the steps I use with Handbrake to set up my movies (you may need another software program such as DVD Shrink to burn your DVDs to your hard-drive).
Open Handbrake.
In the upper left, click source to add your video file or folder.
Once the file is added, it's a good idea to run some test chapters instead of doing the whole movie. Select a chapter or two to test.
Set the destination of the file.
Make sure the container says MP4 File.
In the "Picture" tab, set Anamorphic to None.
Hit the "Video" tab and set the video codec to MPEG-4 (FFmpeg).
Set the "Target Size" of the video to determine the quality. Rough scale do 5-20MBs per minute of video length. Do 5MB per minute for lower quality and 20MB for fairly high (obviously you can go higher or lower if you want). I've been using about 10MB per minute, meaning you would set the target size at 1200MB for a 2 hour movie, 300MB for every half hour.
Once you've finished with the settings, hit "Play" and your computer will go to work (for some reason I often have to change the file path for this to work).
That's it. Once your computer finishes putting your file together you can add it to the Nook Color's video folder on the memory card or internal memory.
Of course you can experiment with the settings of Handbrake even further to customize your videos. This is just the quickest way that I've found that works.
According to the manual the Nook Color can play these video formats: 3GP, 3G2, MP4, M4V, and OGG. And supports MPEG-4 Simple Profile up to 854×480, H.263 up to 352×288, and H.264 Baseline profile up to 854×480.
If you've come across any better settings using Handbrake or know of another program for converting movies to watch on the Nook Color, please feel free to share.