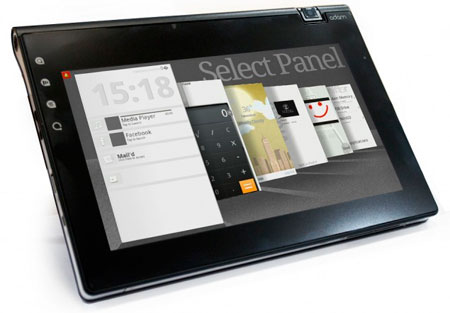 The Notion Ink Adam is on display at CES 2011 and a number of tech sites have posted hands-on videos and first impressions of the production model that's getting set to ship to customers next week.
The Notion Ink Adam is one of the most anticipated tablets ever. One reason is because it is the first to use a new screen technology called Pixel Qi, a variation of LCD technology that is viewable in bright lighting conditions and is more energy efficient than regular LCD displays.
Pixel Qi (pronounced chee) looks to make a big impact in the field of e-reading in the upcoming months because of this. Make sure to watch the end of the first video at 4:05 to see the Pixel Qi screen outside in direct sunlight compared to the iPad's screen. Here's the Engadget article for their first impressions of the Adam.
The second video is from Liliputing's hands-on with the Adam. It goes in depth with Eden (Adam's UI) and demonstrates the Pixel Qi's screen as well.
Pixel Qi Notion Ink Adam Videos at CES