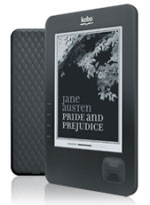 The Kobo Wireless eReader is on sale at Borders.com for $99 and is available in all three color varieties.
The sale lasts for 4 days but unfortunately the Borders site doesn't specify the dates so it's unclear if the sale just started or is about to end (I was researching for a different article and just happened to notice the sale this evening). Update: the sale runs through 1/17.
At any rate, $99 for a wireless ereader is pretty hard to pass up. The regular price for the Kobo Reader at Borders is $139, the same as the Kindle 3. At that price it's a much harder decision between the two, but at $99 the Kobo starts to look pretty good, especially with Adobe DRM support and free library ebooks.
I reviewed the Kobo WiFi back in early November. Check my hands-on Kobo WiFi review and video review for an in-depth look at its features and functions. It makes a solid starter ereader and is a good choice for the non-technically inclined, but probably isn't going to have enough features for more advanced users.