PressReader Released for Android with 1700 Newspaper Subscriptions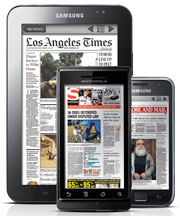 If you read a lot of newspapers then you might try checking out the new Android app called PressReader. There's an app for the iPhone and iPad as well as Mac and PC computers.
With PressReader you can subscribe to over 1,700 full-content newspapers from 93 countries in 49 languages. Newspapers cost 99 cents per issue or $29.95 per month for unlimited subscriptions.
Here's an excerpt of the press release that outlines the key features for the PressReader Android app:
Presentation of complete digital newspaper replicas, often before the print version is on newsstands
Automatic download of favorite newspapers for offline reading
Browse pages in full-page mode – even before completion of the download
Browsing of entire publications with one finger (including zoom, pan and scroll)
Fast navigation from article to article, and to a favorite section using the Table of Contents thumbnails
A rich graphics page view and, for individual news stories, an easy-to-read text view
Sharing of articles by email
On-demand narration of news stories
PressReader for Android Video Demo