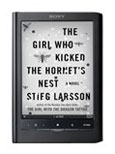 The Sony Touch Edition, a.k.a. the PRS-650, is back in stock in both red and black at Sony Style.com after having sold out a few weeks before Christmas.
Other retailers still aren't showing them in stock yet, at least not at a reasonable price. Even the Sony UK site and other international Sony sites are showing them as temporarily unavailable.
Sony probably just started getting more shipments in this week and will start distributing them to retailers shortly.
Some rumors had the PRS-650 delayed until March, so at least it didn't take that long. Sony probably missed out big on a lot of Christmas shopping though. The 6″ PRS-650 seems to be their most popular model.