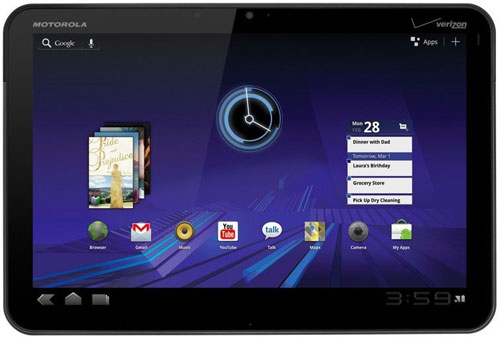 If CES was any indication, where there were over 75 tablets on display, 2011 looks to be the year of the big tablet boom.
One of the first new major tablets to be released is the Motorola Xoom. And according to an article at DigiTimes, it may be arriving as soon as February, which confirms reports of it showing up on Best Buy's inventory earlier in the month for a February 17th release.
What makes the Motorola Xoom so fascinating is that it will be the first tablet to run Android 3.0, aka Honeycomb, the first Android operating system designed for tablets specifically. Motorola will have a good jump on this too because other tablet vendors aren't expected to release 3.0 tablets for 1-2 months down the road.
The Motorola Xoom features a 10.1″ display with a resolution of 1280 x 800. It comes with a 1GHz dual-core Tegra 2 processor, 1GB RAM, 32GB onboard memory, Android Market access, Wi-Fi, Bluetooth 2.1 + EDR, 3G wireless from Verizon that will be upgradable to 4G in spring, it has a front-facing 2 megapixel camera for video chat and a 5 megapixel rear-facing camera that can capture 720p HD video.
Other features include 1080p HD video support, HDMI port, Flash support, microSD card slot, built-in gyroscope, barometer, e-compass, accelerometer and adaptive lighting. The battery life is expected to get 10 hours for video playback. The device weighs in at about 730 grams (25.7 oz) and measures 249.1 x 167.8 x 12.9mm.
There's no official word yet on pricing for the Motorola Xoom, but the Bust Buy leak shows $699 and the Verizon leak suggests $799. Either way, 3G/4G will add a monthly contract to that as well.
Motorola Xoom at CES