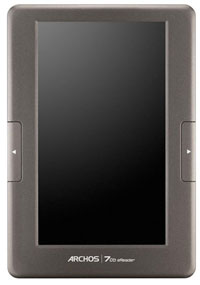 The Archos 70b (pictured left) went up for pre-order in Europe back in December and now it's reached the United States in the form to the Archos 70c, available for pre-order at JR.com for $149.
Archos has a number of Android tablets on the market, but the Archos 70c/b are Archos's first ereader-focused devices that come with official Adobe DRM support for obtaining ebooks from a variety of sources.
The Archos 70c has a 7″ TFT resistive touchscreen with a resolution of 800 x 480. It runs Android 2.1, has Wi-Fi, an SD card slot, speakers, headphone jack, accelerometer, 4GB of storage, 600MHz CPU (hopefully dual-core), and the battery is rated for 10 hours of e-reading.
Since it runs Android, and although it is being marketed as an ereader, the Archos 70c can play videos, music, display photos and slideshows, browse the web, install apps, and everything else you'd expect from an Android ereader.
Upon closer look, the Archos 70c appears to be the same as the Next2 from a hardware perspective, which also sells for about $149. I'm currently in the process of finishing up a review of the Next3 and have been somewhat surprised by it so if the Next2 is anything like it, then the Archos stands to be a pretty decent budget ereader/tablet hybrid if the software runs well.