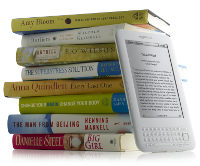 Amazon is getting set to release a new firmware update, version 3.1, for the Kindle 3G and Kindle WiFi that adds some interesting new features.
If you want an early preview of the new software update you can download and install it manually by visiting Amazon's Kindle Software page and following the directions. Otherwise it will be pushed to all Kindle 3's when the update is available.
New Kindle 3 Features
Real Page Numbers – One thing different about the Kindle compared to other ereaders up until now is that it uses locations to determine where you are in a book instead of page numbers. Well, the Kindle now has page numbers that correspond with the real page numbers in printed books, making referencing and citing passages easier, especially for educators and book clubs. Amazon has already added real page numbers to tens of thousands of Kindle books, including the top 100 bestselling books. Page numbers will be making their way to the Kindle apps in the near future as well.
Public Notes – This is a very interesting new feature that none of the other platforms have come up with yet. Public Notes is exactly what you'd think. It allows Kindle users to make their book notes and highlights available for others to see if they so choose. Popular highlights is a feature that's been available for awhile now—being able to read and share notes is going to be even cooler.
Before You Go – This new feature makes rating and reviewing a book or sharing a message about it via social network seamless and simple once reaching the end of a book.
Magazines and Newspapers Get New Layout – They've changed the layout for periodicals slightly. The title page with all the sections now shows headings on the right side of the screen to make navigating quicker and easier.