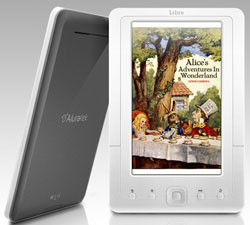 Here's the link to the Aluratek Libre Color review. A big thanks to Christopher Carvalho for writing the review and for shooting a detailed video walkthrough.
The Libre Color is a relatively new ereader from Aluratek. It first started selling a couple months ago in very narrow markets and is just now starting to become more widely available online. It still hasn't made a push into major retail stores just yet, but given the widespread retail presence of Aluratek's Libre Pro, the Libre Color should start showing up in a lot more places in the coming months.
Check the review for the full rundown of the Libre Color.