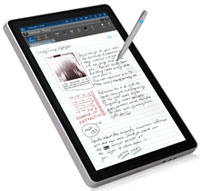 As we have all come to realize, the "tablet" is a hot commodity that many different companies are trying to get their hands in. Microsoft, Apple, Hewlett-Packard, Dell, and Google are just a few of the major companies competing against each other in the mobile computing device market. However, there is one company that, despite its advertising promises, is planning to duck out of hardware manufacturing all together.
 
Silicon Valley has had the Kno Student Tablet in the works for some time. This handy device was specifically geared towards students and their educational needs. In fact, the Kno has gone so far as to network and collaborate with various educational institutions to discover the diverse necessities of the average student. Using this knowledge, the Kno was ready to be a "seamless package" for the consumer.
 
In November of 2010, Kno informed the consumers that they would ship thousands of the touch-screen student tablet to arrive before the new year. Two different versions would be available: a $599 version offering a single-screen, and the $899 offering a clamshell double-screen. Kno even went so far as to produce and ship several hundred through China's Foxconn, but pre-orders were never fulfilled.
 
Unfortunately, the "quicker-than-expected uptake in tablet production by a multitude of powerful device makers" has moved the Kno execs into reconsidering the necessity and criticalness of mass producing and distributing this seamless package. Currently, Kno is discussing selling off the hardware manufacturing section of the tablet. Instead, they plan to focus on the production of software and services compatible with the Apple iPad, Android devices, and other platforms.
Sources could not confirm which major companies Kno is talking to, but it is known that they did sign an NDA with one, according to BoomTown.
 
The public has always been a little leery of the idea of the Kno Student Tablet anyway, simply for the fact that such a major production would have astronomical costs to market. It is very unfortunate that so much money has already been invested in this idea, and it might become obsolete.
Kno has been very high-profile, and has raised $46 million in fundraisers to add to the reported $10 million they already had, and there is talk that they still want to get more. Companies like Andreessen Horowitz and First Round Capital are included in the financial backing of this company.
 
Even though a company representative refused to comment, it has been said that the company feels that abandoning the package and focusing on the software will be a better use to redirect the money towards.
 
In my personal opinion, I must agree. Although the idea of a seamless package is formidable, it does seem limited. If a company were to expand its software compatibility, it offers the consumer more brand options and specific desirables based on what the many companies have to offer.
Source: All Things Digital