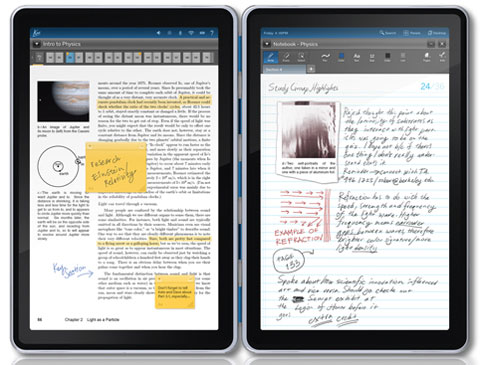 Kno Inc. is a Silicon Valley start-up company with big plans for the higher education market, announcing the Kno Tablet Digital Textbook.
Designed specifically for students, there are two versions of the Kno Tablet, a single screen model and a dual-screen model, each with 2 different options for memory—16GB or 32GB.
The most striking thing about the Kno Tablet is its size. Each model features an LED touchscreen that measures 14.1-inches diagonally. The dual screen version is a whooping 18-inches wide, 13-inches tall, and weighs in at just over 5 and a half pounds. By comparison the single screen model is a trim 9-inches wide, weighing 2.6 pounds.
The Kno Tablet is aimed at becoming the next generation textbook with access to tens of thousands of the most popular textbooks and supplement learning materials from major textbook publishers including Cengage, McGraw Hill, Pearson, Macmillan, Kaplan, Random House, and several others. The available reading material can be found via the new Kno Textbook store.
Kno Pricing and Release Date
The press release for the announcement of the Kno specifically stated that company is now accepting a limited number of pre-orders for an initial shipment. The Kno website lists all four units as being available by December 20th, 2010.
The prices for the Kno Tablets are as follows: the single screen 16GB model is $599, the 32GB model is $699; the dual-screen 16GB model sells for $899, and the 32GB version sells for $999. An interesting stipulation, there's an asterisk that says those prices are the "Special Student Price".
Kno Video Demo
More Kno videos can be found on the Kno YouTube Channel.
Kno Tablet Specs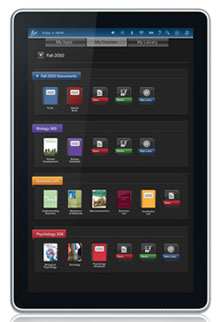 14.1-inch multitouch LED display
1440 x 900 WXGA pixel resolution
Nvidia Terga T200 series CPU
Dual-core ARM Cortex A9 MPCore processor
CPU max 1.0 GHz
512 MB on-board memory
WiFi (IEEE 802.11 b/g)
Bluetooth 2.0 + EDR technology
Ambient light sensor
Accelerometer
Included stylus pen
Height: 13.8-inches
Width: 9.1-inches; Dual-screen: 18.3-inches
Depth: .55-inches; 1.14-inches
Weight: 2.6 pounds; Dual-screen: 5.6 pounds
Micro USB port
3.5 mm headphone jack
Microphone with active noise cancellation
Audio formats: AAC-LC, ACC, MP3, WMA 10, PCM/WAV
Video: Adobe Flash, H.264, WMV9/VC-1, MPEG-4, DiVX, JPEG up to 80 Mpixel per second – 1080p video
6 hour battery life
50.6 watt-hour rechargeable lithium-polymer battery packs