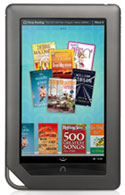 If you are looking to get a color ereader or Android tablet, a new Nook Color can be had for just $199 with free shipping from Barnes and Noble's eBay store with coupon code CBARNESDD.
The coupon deal expires on March 3rd at 8:00 am Pacific Time or until they sellout, according to the coupon details. Limit one coupon per buyer. It's confusing because the countdown clock on the eBay Deals page keeps changing and doesn't correlate with the March 3rd timeline so don't delay with the coupon.
This is a really good deal. Compared to similar devices, the Nook Color is one of the best options even at its regular price. I would personally recommend the Nook Color as both a color ereader and Android tablet; I've been using mine just about every day. Check my Nook Color review for the skinny on the device as a regular ereader and as an Android tablet running Android 3.0 Honeycomb.