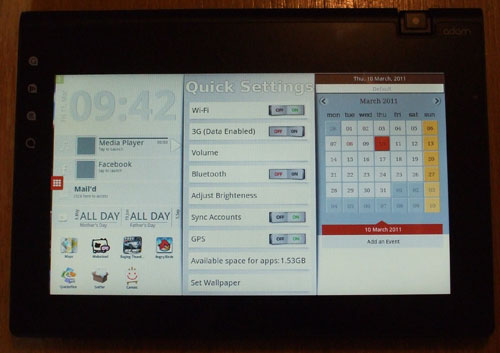 I've been using the Notion Ink Adam daily over the past 2 and a half weeks since I got it and I thought I'd write down a quick review of its pros and cons at this point in time.
I decided to wait until Notion Ink releases the Honeycomb update for the Adam before doing a detailed review since it doesn't make any sense to take a lot of time to review something that's going to change considerably in a month or two.
I've already posted a video review and a review of the Adam's Pixel Qi screen. Below are some pros and cons that I've noticed, but keep in mind that some of them will likely change once the Android 3.0 update comes along. After that I'll post the full Notion Ink Adam review and an updated pros and cons list.
Notion Ink Adam Pros
Pixel Qi screen (optional): I've been taking advantage of being able to sit outside in the sun and get some work and reading done—something I can't so with my laptop because the display is completely unreadable in sunlight.
The web browser is fast loading, scrolling, zooming, and is pleasant to use. I usually use the Dolphin HD browser for Android but I tried it and it is painfully slow compared to the Adam's custom web browser. The Adam's browser has a couple of annoying bugs, but is very good overall, with plenty of features, including Flash support. It would be excellent if NI added volume key scrolling and a way to organize bookmarks.
Speakers: The speakers have pretty decent sound and are loud, much louder than my laptop's, the iPad, and any other portable ereading device I've tested.
Optional 3G: Sim card slot for 3G wireless of your choosing; not locked in to one wireless provider.
Rounded Edge: The Adam's unique rounded edge is comfortable to hold and displaces the Adam's weight evenly, making it feel relatively light.
The Canvas App: The Adam comes with a drawing app that also works well for editing images. There are various effects and appearance options.
Speed: The dual-core NVIDIA processor is fast. The video games and videos I've tested all work smoothly, even 3D video games while running Pandora in the background.
Auto-rotate works well.
The usual PDF and eReading apps all seem to work well. It comes with QuickOffice for PDFs and office documents.
Touchscreen works really well for the most part. Sometimes small icons next to the edge of the screen are hard to activate.
2 USB 2.0 Ports: you can plug in Flash drives, a keyboard, mouse, etc. No $40 magical adaptors required.
HDMI Port: plug the Adam into a TV or monitor. This isn't a big pro because it maintains the same ratio as the Adam's screen so appears more pixelated on a larger screen. Still useful though. HD videos look good.
Notion Ink Adam Cons
Battery life: 5-7 hours with normal use is all I've been getting, 5 with brightness turned up halfway, 7 with auto-brightness. However, auto-brightness is way too dim in my opinion. I managed to squeeze out 8 hours watching video over HDMI with the backlight turned off completely.
Homescreen: can't organize apps in any way, no multiple screens, no widgets (you can install a different launcher to get around this).
No multitask button: Moving between apps requires too many selections. You always have to go home to select another app to open. Trying to move between multiple apps at once is annoying. Hopefully Honeycomb will fix this by incorporating the recent apps list that it uses.
Leafs: Pretty much pointless, really. I've tried to make this functional and it just isn't because only Notion Ink's apps work with it. The customizable homescreen, the widgets, and recent app list on Honeycomb are much better.
Email: The Adam's email app has potential but is about worthless at this point in time for a number of reasons. There are no folders for gmail, emails don't display most of the time, it force closes frequently, and deleting an email only removes it from the Adam, not gmail.
The included matte screen protector makes the screen look terrible, but does combat reflection and fingerprints effectively.
The screen is highly reflective and fingerprints build up (I'm getting this screen protector from Skinomi and will post a review for it next week).
No Android Market access without hack (Honeycomb will fix that).
Notion Ink support is very hard to get in touch with. Sometimes they'll answer your email in a couple of days, sometimes it takes a week, sometimes they don't respond at all.
Notion Ink Adam Quick Review Conclusion
Overall, I'm liking the Notion Ink Adam quite a lot so far and can't wait for the Honeycomb update to unleash its full potential. I don't think I would be as happy with it had I not gotten the Pixel Qi version because of the way I use it, but that all comes down to personal preference.
My biggest concern with the Adam is the company behind it, Notion Ink. They are a start-up company without any experience, which has been painfully evident up to this point to anyone following Notion Ink closely. The pre-order process hasn't gone well, there have been damaged shipments, numerous delays, and getting in touch with support is not easy if you happen to have any problems or questions.
As this point in time, the Notion Ink Adam has a lot of potential, especially at its competitive price, but is still a work in progress. Time will tell if Notion Ink is up to the task. Selling a tablet on a global scale is not going to be easy, especially when it comes to product support and warranty service.