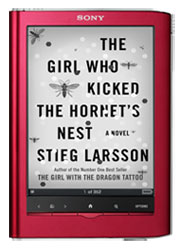 If you've tried to get your hands on a new Sony PRS-650 recently you probably know that they are very hard to find these days.
Most retail stores don't have them in stock, most online retailers that sell Sony Readers only sell the PRS-350 and sometimes the PRS-950, but the PRS-650 has been hard to come by for the past several months.
Right now Sony's website shows the silver PRS-350 and PRS-950 as in stock. But if you click on the PRS-650 model it directs you to the black PRS-650, which is listed as "out of stock". If you click on the red icon first it directs to the red PRS-650, and surprisingly, it is in stock right now. But since the page is hard to get to most people won't be able to find it.
Another oddity, there's this old page for the pink PRS-350. It says this product is "No longer available for purchase at Sony Style". It is still available elsewhere but since Sony no longer has it it makes you wonder if Sony is going to stop making the pink variety altogether.
What is going on with Sony's ereaders? Usually they wait one year to upgrade their ebook readers and that's still six months off. If they are having trouble keeping the PRS-650 in stock now, I find it hard to believe they're planning on updating it to add wireless when they are already selling like hotcakes.
The limited stock for the PRS-650 isn't because it is unpopular and is just scrapping by. I'm in Sony's advertising program, and although I never use it anymore, I do receive product updates and lists of top selling items. On March 3rd, the PRS-650 was listed as Sony's #8 top selling product overall by revenue for the week of February 27th – March 5th when it was briefly back in stock. Considering the other products Sony sells that's pretty impressive. So why can't they keep them in stock? Amazon has no trouble keeping the Kindle 3 in stock and it uses the same screen as the 650. There's something fishy going on somewhere…