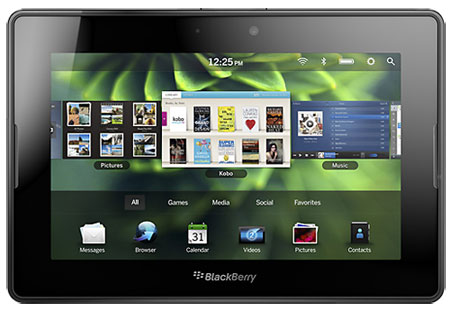 The BlackBerry PlayBook went up for pre-order yesterday from Best Buy and is expected to be released on April 19th. It starts at $499 for the 16GB model, $599 for the 32GB version, and is $699 for the 64GB model. The prices are the same in Canada and the United States.
For a device with a 7″ screen they are really pricing the PlayBook out of the park for most people. Fans of BlackBerry are probably happy, but those prices are going to steer most folks toward the iPad 2 or an Android tablet. It doesn't even come with 3G wireless at those prices, just WiFi.
The PlayBook is being marketed as a "multi-tasking powerhouse" with its new custom operating system. There doesn't appear to be any focus on e-reading, but it should access all the usual BlackBerry eReading apps like Kindle, Kobo, etc.
The BlackBerry PlayBook will sell from over 20,000 retail stores in the Unites States and Canada, including AT&T, Best Buy, Office Depot, RadioShack, and Staples.
Here are the specs from the press release:
7″ 1024×600 WSVGA capacitive LCD touch screen
Ultra-portable at less than a pound and less than one-half inch thick: 0.9 lbs (425g) and 5.1″ x 7.6″ x 0.4″ (130mm x 194mm x 10mm)
1 GHz dual-core processor
BlackBerry® Tablet OS with support for symmetric multiprocessing
MP3, AAC and WMA audio playback
Support for high resolution video playback (H.264, MPEG4, WMV)
1080p HDMI output
Dual 1080p HD cameras for video conferencing and video capture (3MP front and 5MP rear)
1 GB RAM memory
Up to 64 GB internal storage (16, 32 and 64 GB models)
GPS, Orientation Sensor (Accelerometer), 6-Axis Motion Sensor (Gyroscope), Digital Compass (Magnetometer)
Stereo speakers and stereo microphones
Wi-Fi® (802.11 a/b/g/n) connectivity
Bluetooth® 2.1+EDR support
Via: Engadget