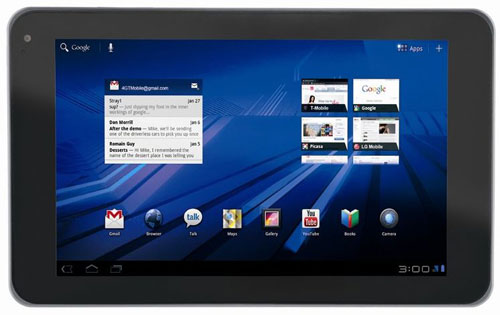 T-Mobile outed the price for the LG G-Slate yesterday so the release date must be growing nigh. The T-Mobile G-Slate will set you back $529 with a 2 year contract of at least $20 per month, and that's after a $100 mail in rebate—not cheap.
The G-Slate runs Android 3.0 (Honeycomb) and features a 8.9-inch 3D-capable, multitouch HD display. It can record 3D video and full HD video and can connect to T-Mobile's "4G" wireless network.
It has a 1GHz dual-core Tegra 2 processor, WiFi, 32GB of internal storage, HDMI, accelerometer, gyroscope, and plenty of other goodies to make tech geeks drool.
The G-Slate comes with the Zinio eReader app for digital magazines, books, and some textbooks. It is being marketed more as an HD video and gaming device than a e-reading device. But it will be open to the entire Army of eReading Apps in the android market.
T-Mobile G-Slate Bundled Apps Tour
Via: Engadget