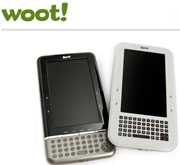 Although I wouldn't particularly recommend it, the Sharper Image Literati is on sale today for $49.99 plus $5 shipping at Woot.com. At that price any ereader is hard to pass up, despite its shortcomings.
The Literati is a 7″ LCD ereader that ties in with the Kobo ebookstore. It will also work with Adobe DRM'd EPUB and PDF ebooks acquired from other sources, including free library ebooks.
Here's my Literati review from back in October for more specs and details.
There are a few other ereaders on sale as well, albeit none as good as the price for the Literati. Here's the list:
Nook WiFi is selling refurbished for $89 from Buy.com. It usually sells for $119.
9″ Pandigital Novel is on clearence for $179 at QVC. It usually sells for $200-$220.
Aluratek Libre is $79 after a mail-in-rebate from B&H. The regular price is $119.
Black Pandigital Novel is marked down $40 to $129 at Best Buy. But you are better off getting the white model from Amazon for $139.
Some Borders stores that are going out of business have the Kobo Wifi on clearence for $60.
The Sony Pocket will be on sale for $129 from 3/27/11 – 4/2/11 at Borders.