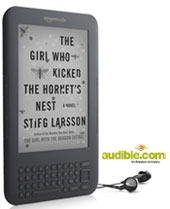 All Kindle devices support audiobooks from Audible.com
transferred via USB, and now the Kindle 3 can download audiobooks directly using WiFi.
Audible has about 85,000 audiobooks available to listen to on computers, a number of portable devices including Android, iPhone, BlackBerry, and even GPS systems in cars.
I have a handful of audiobooks from Audible—they're good for listening to while working and driving—so I tested it out this morning to see how to download my existing audiobooks from Audible to the Kindle 3.
If you aren't a member of Audible, you can get 2 free audiobooks by signing up for a 30-day free trial. They have various other offers too, including one through Amazon where you get $100 off the purchase of various electronics that support Audible's audiobooks.
If you are already a member of Audible and want to download your purchased audiobooks to the Kindle 3, you need to link your Audible account to your Amazon account at Audible.com
by selecting "Already a Member?" and following the directions for using your Amazon account and password.
Then once you turn on your Kindle 3 and hit refresh or select check for new items in the menu, your audiobooks from Audible will show up in the Archived items list.
Even over WiFi it can take several minutes to download an audiobook because of the large file size. My Kindle 3 fell asleep a couple of times during the process before the audiobook appeared on the Homescreen.
To shop for new audiobooks you don't have to visit Audible's website, just launch the Kindle Store from the Kindle 3; they now have a category for Audible's audiobooks. There's also an Audible Audiobooks section at Amazon.com for shopping from there.