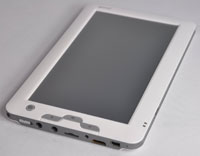 I happened across a new inexpensive ereader this morning on Amazon called the Gemei GM2000, a cross between an ebook reader and portable media player.
The Gemei GM2000 isn't new exactly; there are a few articles about it from last summer, but it's relatively new to the US market, having been available in Asia mostly by the looks of things.
The Gemei GM2000 features a 7″ TFT color touchscreen with a resolution of 800 x 480. It comes with 4GB on internal memory and supports microSD memory cards up to 32GB. It can output 1080p video and has an HDMI port, along with a built-in speaker, microphone, and FM radio. It has text-to-speech as well.
For ebook formats it doesn't say anything about DRM support so that's probably not going to happen, but it does support the following text formats: TXT, PDF, CHM, PDB, HTM/HTML, UMD, EPUB. Additional formats are listed on the description page on Gemei's website, but not at Amazon, so it's unclear if these formats will work or not: jar, cbz, mobi, fb2.
Other formats supported include: AVI (H.264, DIVX, DIVX, XVID), rm, rmvb, MKV (H.264, DIVX, DIVX, XVID), WMV, MOV, MP4 (. H.264, MPEG, DIVX, XVID), DAT (VCD format), VOB (DVD format), PMP, MPEG, MPG, FLV (H.263, H.264), ASF, TS, TP, 3GP.
As for battery life, it is rated at 4-5 hours for video and 6-8 for audio, probably about the same or slightly more for reading.
At $109 on Amazon, I'm tempted to order one for review but don't think I will. It's already been out for nearly a year and I doubt it will be marketed very heavily here in the States before it ends up in the great gadget pile of oblivion.
Gemei GM2000 Video Review (Russian)