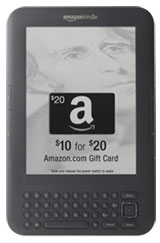 Utilizing an interesting new marketing strategy for US customers, Amazon is now selling a new Kindle 3 WiFi with Special Offers for $114, $25 less than the regular WiFi model.
The only difference is the new Kindle displays sponsored screensavers and special offers, along with an advertisement at the bottom of the Kindle's homescreen—not while reading or anywhere else.
Amazon will start shipping the new Kindle on May 3rd. It will also be sold in retail stores such as Target, Staples, and Best Buy.
If this had happened on April 1st, I would have thought it was a joke, but it's not. The new page over at Amazon proves it. It's strange that they settled on $114 of all numbers. You'd think that a $99 Kindle would be a lot more appealing from a marketing standpoint. For $25 more you're better off getting the Kindle WiFi without sponsored ads, unless the special offers are worth it.
These are the examples that Amazon gives for the "Special Offers":
$10 for $20 Amazon.com Gift Card
$6 for 6 Audible Books (normally $68)
$1 for an album in the Amazon MP3 Store (choose from over 1 million albums)
$10 for $30 of products in the Amazon Denim Shop or Amazon Swim Shop
Free $100 Amazon.com Gift Card when you get an Amazon Rewards Visa Card (normally $30)
Buy one of 30 Kindle bestsellers with your Visa card and get $10 Amazon.com credit
50% off Roku Streaming Player (normally $99)
Regarding the advertisements, customers will be able to help choose sponsored screensavers by downloading a new Kindle app called AdMash. There will also be an option to set Kindle Screensaver Preferences to display different styles of screensavers like landscapes and photography.
Below are a couple of examples of the ads. The picture at the top of this post shows an example of a special offer.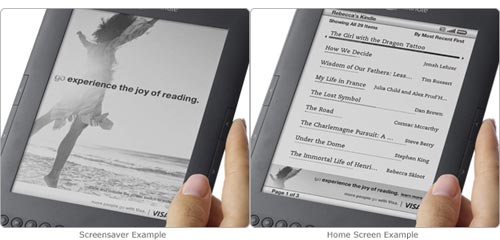 More details can be found on Amazon's new Kindle with Special Offers help page.