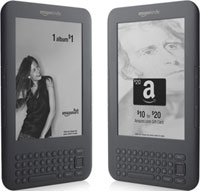 Now that Amazon has introduced the Kindle with Special Offers for $114, it's a good time to review all the pros and cons of the new Kindle to see if it is worth buying.
Aside from the $25 difference in price, the only thing that differentiates the Kindle with Special Offers and the normal Kindle WiFi are the advertisements and special offers that run on the Kindle's screensavers and at the bottom of the homescreen. Other than that the two models share the exact same features and functions.
Given their similarities, it's worth checking my Kindle WiFi review for a detailed look at the Kindle 3, which includes videos, a PDF review, several pictures, and helpful tips and tricks.
This post will cover the pros and cons of the $114 Special Offer Kindle, as well as the main pros and cons for the Kindle 3 itself. But first, let's go over what the advertisements mean exactly, then the special offers.
Sponsored Advertisements
The ads aren't in ebooks, just the screensavers and on the homescreen.
You can help choose which ads are selected using an app called AdMash.
There are settings to adjust preferences for the types of screensavers you want to see.
Ad partners at launch include Visa, Olay, Buick, and Chase.
Special Offers
Instead of ads, sometimes Special Offers will be displayed. They are essentially coupon deals.
New Special Offers will be sent to the Kindle regularly.
A full list of active offers are available from the menu of the Kindle at all times.
Examples of offers include: $10 for $20 Amazon.com gift card, $6 for 6 Audible books, $1 for an album in the Amazon MP3 Store.
Now for the pros and cons. Since the Kindle with Special Offers is essentially the same as the Kindle WiFi minus the ads, most of these apply to it as well.
Kindle with Special Offers Pros
The $114 price, of course.
Some of the Special Offers look interesting.
Pearl screens have better contrast and darker text than Vizplex screens. Only the Kindles and Sony Readers are using Pearl screens at present.
WiFi for downloading ebooks, emailing ebooks, browsing the web.
The Kindle 3 easily has the best web browser as far as E Ink ereaders go.
3-4 week battery life.
Amazon now has over 900,000 ebooks, 165 electronic newspapers, and 90 magazine subscriptions.
Lots of promotional free ebooks each week.
Supports MOBI format for lots of free ebooks from various sources, plus you can convert DRM-free EPUB to MOBI with Calibre.
Text To Speech, if publisher enabled.
Apps for Reading Kindle Books on Android devices, Apple's iProducts, Blackberry, Windows Phone 7, PC, and Mac computers.
Light and portable at 8.5 oz and 0.335″ thick.
Decent PDF support for a 6″ reader (no 6″ ereader is great).
4GB of internal memory.
Lend certain ebooks (restrictions aplenty).
Supports audiobooks from Audible.com.
Kindle with Special Offers Cons
Screensaver advertisements.
Ad at the bottom of the homescreen (the homescreen lists your library of ebooks).
$25 off isn't much. Why not $40 to make it $99?
No 3G wireless option.
No EPUB support.
No support for library ebooks.
Lacks memory card slot.
Music player is very basic.
Requires reading light or lamp at night; no backlighting.
Doesn't show book covers in library.
Kindle with Special Offers is limited to residents of the United States, for now anyway.
Is Kindle with Special Offers Worth Getting?
That depends. At just $25 less than the normal Kindle WiFi, it's hard to justify buying an ad-supported Kindle. But $25 less is $25 less. And the regular screensavers are portraits of dead authors so you're really not losing much there. If the Special Offers look enticing then it may well be a better option in the long run. It will be interesting to see if Amazon allows customers to pay the extra $25 if they decide they don't want to see the ads anymore.
Kindle with Special Offers is something that no one was expecting, and it's so strange that they settled on $114. At $99 it would have a much greater impact. $25 off really isn't very much incentive to have to put up with ads for the rest of the Kindle's life. It really all comes down to the Special Offers.