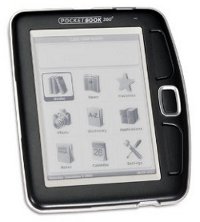 Charbax from ARMdevices.net got his hands on the new PocketBook 360 Plus at the HKTDC Electronics Fair in Hong Kong.
If you recall, this is the same PocketBook 360 that was videoed playing Doom II a couple of weeks ago. Charbax also posted a video of the PocketBook 360 playing Doom (second video below). The first video is more of a general look at PocketBook's newest ebook reader that reveals some interesting new information about it.
The PocketBook 360 is PocketBook's most popular model. It has a 5″ E Ink screen, comes in black and ivory, has a microSD card slot, 2GB of memory, g-sensor, and features a unique design with a hard lid that snaps on as a cover to protect the screen.
The PocketBook 360 Plus doesn't have a release date or pricing yet, but the video shows that it has an upgraded, faster processor, 533MHz vs 400MHz, a new Vizplex screen with 16 shades of gray, up from 4, and it comes with WiFi for downloading ebooks online. It's surprising that it uses a Vizplex screen instead of the newer Pearl screens.
PocketBook 360 Plus
Doom II on PocketBook 360 Plus