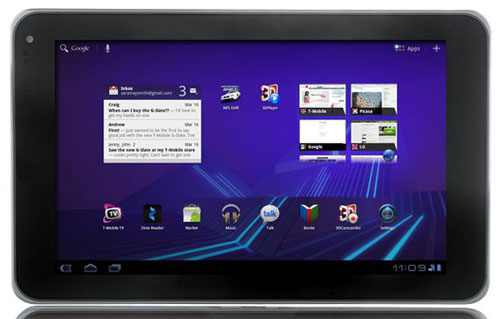 Another Android 3.0 Honeycomb tablet hits the US market today called the T-Mobile G-Slate.
As you would guess by the name, the G-Slate sells exclusively from T-Mobile. It will set you back $529 big ones in you are willing to pen a two-year contract. That price includes a $100 mail-in rebate and $120 instant discount.
Like most Honeycomb tablets, the G-Slate is powered by a dual-core Tegra 2 processor. It comes with 4G wireless and WiFi, 32 GB of internal memory, an 8.9″ HD display, a front facing camera for video chat, and two 5MP rear-facing stereoscopic cameras for capturing 3D video. The G-Slate even comes with a pair of 3D glasses.
T-Mobile also announced some content partners for the device. It comes with the following pre-installed applications: T-Mobile TV for live and on-demand TV; Need for Speed SHIFT HD, an award-winning racing game; Zinio eReader, an online newsstand for access to 75,000 digital magazines from 26 countries; and Google apps, which includes Google eBooks, Google Talk, Google Maps, Voice Search, and others via the Android Market.
The G-Slate is the second Honeycomb tablet to hit the US market, the other is the Motorola Xoom, which sells for $599 with a contract or WiFi-only, $799 off contract.
G-Slate Video Demo