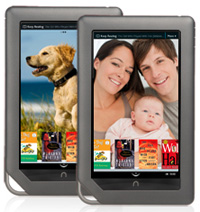 So I stumbled across an interesting listing today on Barnes and Noble's eBay Store. They are now selling refurbished Nook Colors for $225 with free shipping.
Apparently one other person found the listing before me because there was 1 sold in the history; by this time tomorrow I bet it will be over 1000.
That's not a huge discount but it's $24 less than a brand spanking new Nook Color from B&N. And it includes the usual 1 year warranty.
Even at $249, the Nook Color is one of the best values for an LCD ereader/tablet on the market. Other tablets in that price range either have inferior screens, weak processors, or plain just don't work well.
We are all still waiting on the firmware update for the Nook Color that will give it some added functionality and provide it with access to B&N's soon-to-launch Nook App Store. Until then its primary purpose is e-reading, unless you hack it or use a ROM on a memory card—both of which can turn it into a pretty awesome Android tablet.
You can check my review of the Nook Color for all the specs and details on the device.
Update: Barnes and Noble now offer the $225 Nook Color directly from their website as well.