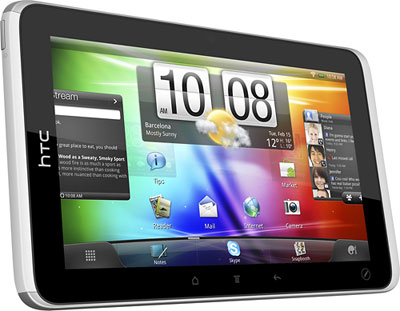 Here's another tablet getting set to be introduced into the market later this month, the HTC Flyer. It is up for pre-order for $499 from Best Buy with an expected shipping date of May 22nd.
The HTC Flyer has a 7″ touchscreen with a resolution of 1024 x 600, similar to that of the BlackBerry PlayBook and Nook Color. It comes with 16GB of internal memory and has a microSD card slot. The Flyer comes with WiFi and Bluetooth 3.0, a 1.5GHz Qualcomm processor, a front-facing 1.3MP camera, and a 5.0MP rear-facing camera.
On the downside, it runs Android 2.3 Gingerbread, not the newer tablet-specific operating system Android 3.0, but HTC is promising an upgrade to 3.0 in the future.
The HTC Flyer comes with "HTC Sense", which gives it some additional features such as HTC Watch for watching movies and utilizing a special pen for taking notes on-screen, called Scribe Technology.
Additionally, Best Buy lists a bunch of stuff about hands-free dialing, Polyphonic ringtones, and vibrate mode as if it can be used as a phone, even though it doesn't have 3G. Not sure what any of that means for the Flyer's functionality.
It is interesting that HTC settled on offering it for such a high price with the likes of the iPad 2 starting at the same price and other Android tablets like the ASUS Transformer that runs Android 3.0, has a larger 10″ screen, and costs $100 less. The HTC Flyer's unique pen and software will determine if the extra price is worth it for consumers. The video below explains more about the Notes feature using the digital pen.
HTC Flyer – A Closer Look