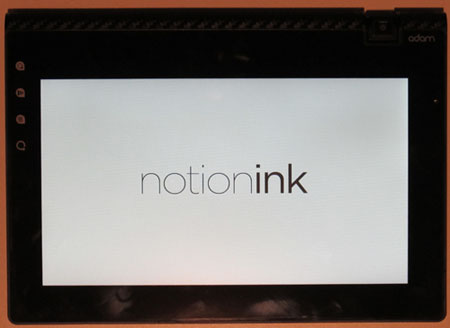 I hate to have to call out a company for being liars and cheats, but unfortunately Notion Ink has given me no choice.
I ordered a Pixel Qi 3G+WiFi Adam way back on December 9th when Notion Ink first started taking pre-orders. After several delays, my Notion Ink Adam finally arrived on February 22nd.
Shortly after it arrived, I sat down to clean the screen before putting on the screen protector. That's when I noticed over a dozen dead pixels scattered across the Adam's screen, the most noticeable ones are in the center of the display.
Three days after my Adam arrived, I wrote Notion Ink support explaining the problem. They referenced their warranty and told me to send some pictures so that they could better assist me.
Here's the pertinent section from Notion Ink's Warranty, quoted word for word in case it should happen to change:
15. Notion Ink uses Grade A LCD (Liquid crystal Display) panels, in its products, which are made up of Pixels and Sub-pixels. These pixels are delicate and prone to damage, during transit or shipment, due to dust particles and other foreign materials. In general industry practice, damage of up to 5 pixels is acceptable in such LCD screens. However, Notion Ink warrants replacing damaged LCDs having 3 or more pixels damaged in course of transit. Any damage to the LCD screen below 3 pixels would not have warranty coverage and shall not be a subject to replacement or repair. To claim repair or replacement under our warranty policy, you can write to us at support@notionink.com. Notion Ink will examine the returned product and decide, at its sole discretion, whether such LCD screen will be replaced under the warranty or not.
So the next day I sent Notion Ink some pictures of the dead pixels. Admittedly the pictures weren't that great. I found it difficult to get a camera to focus on pins of light on a highly-reflective surface.
A full week went by without a single response from Notion Ink. I emailed them again asking why I hadn't heard back from them. They responded 6 days later and said that they had never received any emails from me regarding this issue. They again requested pictures of the dead pixels to proceed further.
I decided to send a video (below) this time to show the dead pixels better, along with a better picture that showed three dead pixels bright and clear. This was on March 10th.
Again, Notion Ink doesn't respond to my email. I try to contact them but get no response. Eighteen days go by without a word. Then finally on March 28th, two emails appear in my inbox from Notion Ink. Both are form letters that say the following:
Dear Nathan,

Greetings from Notion Ink!

We have received your return and refund request.

We request you to reply to our mails to proceed further.

We would not be able to proceed without your response and intimation.

Please forgive us for the inconvenience.

Thanks for your continued support to Notion Ink.

Regards,
Kenny
Noiton Ink Support
Are you following that email? Because I don't. And I love how the company name is misspelled on the signature—a microcosm of Notion Ink as a whole. Why wouldn't they send info about how to proceed with the warranty? Why did it take two and a half weeks to get this nonsensical, generic response? I sent a snarky reply saying that they now have my response in order to proceed, along with my intimation. So get on with it already.
They immediately sent a follow-up just a few hours later (I was surprised) but what "Kenny" says makes no sense. I never received any of the requests that he says I did, and they most certainly didn't try to contact me (and yes, I checked the spam folder):
Please forgive us if we have offended you in anyway.

We received your mail dated FEB 26 2011 with pictures attached to it. We forwarded it our technical team and they requested more pictures. We requested a few pictures with Adam turned ON for our review in mail dated March 10 2011. This would help us to diagnose the issue better.

Please forgive us for the inconvenience. As we did not receive any more responses from your end we tried to contact you again.

We assure you this process will be quicker and we will provide you a solution swiftly. We kindly request you to respond so that we can take this process further.
Again, he asks me to "respond so that we can take this process further". Why do they keep asking that? It's so frustrating. It's like they are just trying to run customers in circles. So of course I respond yet again saying as much, and ask what exactly it is I need to do to proceed with warranty service.
And that's the last I've heard from Notion Ink. I've since sent several follow-up emails trying to get a response from them but I never get anything. It is now May 6th, 10 weeks since I first sent Notion Ink the first email about this issue. At this point it is clear Notion Ink has no intention of honoring their warranty.
My advice: steer clear of Notion Ink unless you like getting shafted.
Notion Ink Adam – Dead Pixel Society