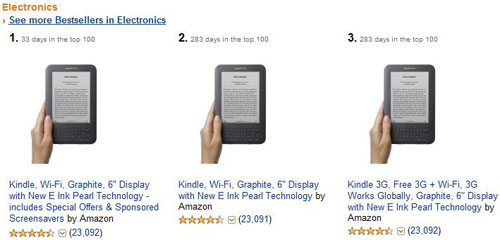 According to Amazon's electronics bestseller list, the new ad-supported $114 Kindle is a big hit, ranking #1 overall, placing it above the Kindle WiFi at #2 and the Kindle 3G at #3. The Kindle DX is #11 on the list.
It is surprising that Amazon's new ad-supported Kindle ranks at the top of the list for a number of reasons, the most obvious is the fact that it is only sold in the United States whereas the other Kindles are sold to 170+ countries worldwide.
It seems that people in the US buy a heck of a lot more Kindles and they would rather save $25 and put up with ads and coupon deals at the bottom of the homescreen and on the screensavers than spend extra for the Kindle WiFi or 3G model. The ads aren't in ebooks and sometimes include special offers for deals on Amazon gift cards and other Amazon products and services, so the tradeoff is justifiable for those trying to save some money. Given the vast amount of commercialism in the US, it would be interesting to see how well an ad-supported Kindle does in other countries.
It's funny because Amazon has essentially managed to create the buzz of a new device without actually doing anything but changing the way the Kindle WiFi is marketed. The sponsored advertisements are the only thing that separates the $114 Kindle from the $139 Kindle WiFi. Other than that they share all the same features and functions.
One month in, the experiment appears to be going very well. Expect more price-cuts and ad-supported devices in the near future. Other companies are likely to get on board with this type of marketing strategy too.