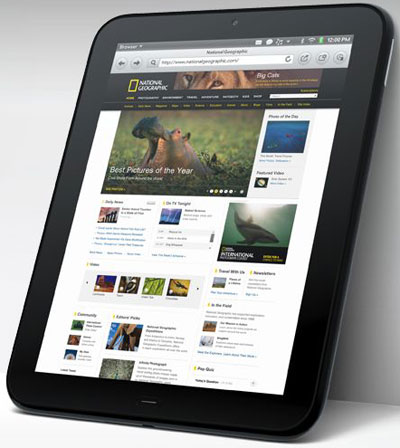 There's a new type of tablet getting set to release, the HP TouchPad. A description page for it appeared this morning on Best Buy, suggesting its release is drawing nigh.
What makes the TouchPad unique is that it brings a new multitasking operating system to tablets called HP webOS. Similar to the BlackBerry PlayBook, the TouchPad runs multiple apps at once and has a panel of open app windows to scroll through on the homescreen.
The TouchPad is the first major tablet to replicate the iPad's form factor. It has the same 9.7″ screen size and 1024 x 768 pixel resolution. It doesn't have the iPad's streamlined size, however, weighing in at 1.6 pounds and measuring .54″ thick.
Other specs include a 1.2GHz dual-core Snapdragon processor, option for 16GB or 32GB internal storage, WiFi, Bluetooth, a front-facing 1.3-megapixel webcam, light sensor, accelerometer, compass (magnetometer), and gyroscope. The TouchPad has a micro-USB port, 3.5mm headphone jack, and stereo speakers. There's no mention of battery life, just that it has a 6000 mAh battery.
One of the main features with the TouchPad is the integration with other HP devices for printing wirelessly and sharing information with certain HP smartphones simply by tapping the devices together, and can also receive text messages and answer phone calls.
The TouchPad supports Adobe Flash, and comes with Quickoffice Connect Mobile Suite for viewing and editing documents like Microsoft Word and Excel. Amazon has announced that they will launch a Kindle app optimized for the TouchPad that will give it access to the Kindle Store.
The price for the TouchPad has not been announced yet. Given the specs don't rival the iPad 2 and the fact that it doesn't have memory card slots, an HDMI port, or a rear camera, HP better price it very competitively. It would be very unwise to price it the same as the iPad 2. The 16GB model has to come in at $450 or less, or HP is going to see disappointing sales just like the PlayBook and Honeycomb tablets have so far this year.
HP TouchPad Video Demo