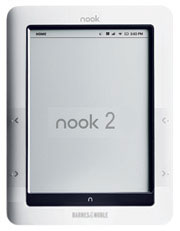 Barnes and Noble is expected to announce a new ereader device on Tuesday, May 24th. There aren't any details about the new Nook yet, so all we can do is guess at what features it will have.
Most people expect Barnes and Noble to release a new E Ink Nook—a Nook 2—but others insist a Nook Color 2 is going to be announced, possibly one with a larger display and with an Android Honeycomb operating system.
I predict that it will be a new E Ink Nook focused on simplicity and low cost, and will probably lack a few features to bring the price down.
I can guarantee it will not be a Nook Color 2. B&N just released a major update for the Nook Color so replacing it now makes no logical sense, and a Honeycomb Nook makes even less sense because B&N are in the business of selling ebooks, not hardware. A Honeycomb Nook would have to be unlocked and thus open to install 3rd party apps—that's something B&N would never do, and their new appstore is proof.
I suspect the Nook 2 will do away with the color LCD screen below the E Ink screen, like the picture at the top of this post suggests. Instead the Nook 2 will have a touchscreen similar to Sony's ereaders, which use NeoNode's zForce infrared technology. These touchscreens have been a huge success for Sony because they work extremely well and don't degrade the quality of the screen.
Another detail with the screen, the new Nook could use the new higher-contrast Pearl displays like the Kindle and Sony Readers. Or perhaps B&N will go in a completely different direction and use some variation of LCD.
One big question, will the Nook 2 have an Android operating system? The original Nook does, and so does the Nook Color. It seems very likely that the new Nook will run Android as well. But what version? And will it be hackable?
What about screen size? Most ereaders come with 6″ screens, but 5″ or 7″ screens aren't out of the question. A 7″ screen would match the Nook Color.
Some features are pretty much a given: ebook lending, syncing, notes, highlights, dictionary, adjustable text size and type, support for Adobe DRM, WiFi, and PDF support (hopefully improved PDF support). All the other Nooks have a microSD card slot, so that will likely be included as well.
The original Nook, in part because of the LCD screen, doesn't get very good battery life compared to other E Ink ereaders, so hopefully the new Nook will improve in that area.
It will be interesting to see how this all turns out. What features do you think the new Nook will have?