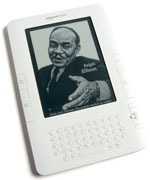 Today Woot is offering a refurbished 2nd generation Kindle for $89.99 plus $5 for shipping. It comes with free 3G global wireless and a 1 year warranty from Amazon.
The Kindle 2 features a 6″ E Ink Vizplex display. It comes with 2GB of internal memory—enough for about 1500 ebooks—and the battery will last about 2 weeks on a single charge. It supports AZW, PDF, unencrypted MOBI and PRC ebook formats, and other formats through conversion.
Other features include: basic web browser, built-in headphone jack and speakers for listening to MP3 audio files as well as audiobooks from Audible.com, text-to-speech, collections, popular highlights, sharing on Facebook and Twitter, bookmarks, highlights, notes, and dictionary look-up.
On the surface this sounds like a really good deal, but unless you really want free 3G, the new Kindle 3 with Special Offers at $114 with free shipping is the better deal overall for an extra $19, if you don't mind putting up with an ad on the homescreen and on the screensavers.