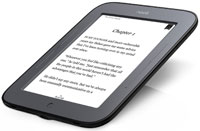 So now that the new Nook Touch has officially been unveiled, a number of tech sites are starting to post some hands-on videos of it in action.
Barnes and Noble has also released a number of photos of the new Nook that I used to put together this photo gallery that shows it close-up and in better detail.
Make sure to hit the previous post for the complete specs and details of the new Nook, also located on the photo gallery page. I'll be posting my own hands-on video and review as soon as the new Nook arrives, along with comparison reviews and videos of it versus the Kindle 3, Kobo Touch, and other ereaders, so subscribe to this site's RSS feed to keep updated.
CNet's New Nook Hands-on
Laptop Mag's Hands-on with New Nook Touch
Engadget's Nook Touch Video