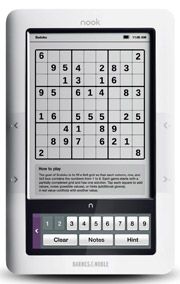 Now that Barnes and Noble is getting set to announce a new Nook later this morning, they are unloading the E Ink Nook WiFi on eBay for $99 with free shipping, down from its usual price of $149.
Barnes and Noble typically sell refurbished ereaders on eBay, but these ones are labeled as "New". They had previously been selling refurbished 3G models for $99, but the 3G models are no longer listed at all. They continue to offer refurbished Nook Colors for $225.
Additionally, select covers for the Nook WiFi and Nook 3G are marked down 75% off the list price at Barnes and Noble.
Logically this indicates a new E Ink Nook is going to be announced in a couple of hours instead of a new Color Nook. It will be interesting to see how the new Nook stands up to the Kobo Touch that was announced yesterday.