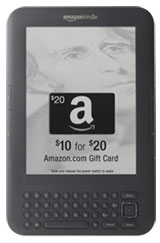 In a sure attempt to steal some of the limelight away from the new Nook Touch and Kobo Touch ebook readers that were just unveiled over the past two days, Amazon has introduced a Kindle 3G with special offers for $164.
It took only 5 weeks for the $114 Kindle 3 Wifi with special offers to become the #1 selling Kindle in the US, so Amazon is swiftly taking it a step further by offering the free 3G wireless Kindle at a discount as well, at the sacrifice of displaying sponsored advertisements. Is the Kindle DX next?
Aside from the $25 price difference, the only thing that separates the Kindle 3G with special offers from the regular Kindle 3G are the advertisements and special offers that run on the Kindle's screensavers and at the bottom of the homescreen—not in ebooks or anywhere else. Other than that the two models share the exact same features and functions.
Here are some examples of special offers that Amazon says will be available in the coming weeks:
$10 for a $20 Amazon.com Gift Card – customers loved this offer, so we're making it available again in time for Father's Day
Save up to $500 off Amazon's already low prices on HDTVs with a unique 20% discount on 200 HDTVs from brands including Sony, Panasonic, LG, and VIZIO
$1 for a Kindle book, choose from thousands of books including Water for Elephants and the Hunger Games trilogy
Spend $10 on Kindle books and get a free $10 Amazon.com Gift Card
The Kindle 3G with special offers is selling for $164 and is available for immediate shipment to customers in the United States.