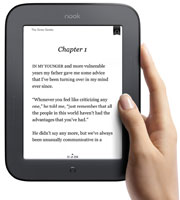 Good news. If you pre-ordered a Nook Touch last week, you'll likely be getting a shipping notice today if you already haven't gotten one.
That's right, the New Nook Touch is shipping a week and a half early. Original shipping estimates stated it would ship on June 10th, but B&N is surprising everyone by releasing it early.
In fact, if you head over to the Barnes and Noble website, the Nook Touch is listed as available now, pre-orders are gone.
B&N issued a press release stating that they had started shipping units yesterday, and that customers can visit one of Barnes & Noble's more than 700 retail stores to test New Nook demo units beginning Thursday. Additionally, B&N states that stores will start having Nook Touches in-stock beginning this weekend.