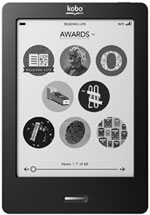 It looks like the new Kobo Touch ebook reader has already started shipping in Canada. Someone has gotten their hands on one and posted an unboxing and first look video on YouTube.
I never understood the point of unboxing videos—some kind of strange wish-fulfillment fantasy thing—but at least the video shows the Kobo Touch in action after the 45 second mark.
It doesn't appear to be quite as fast as the New Nook. The video shows the Kobo taking a few seconds for books to open and for the system to react. Hopefully that's just some early release jitters that will get improved with a firmware update.
If you happen to get you hands on one of the new Kobo's, please lets us know what you think.
Kobo Touch Video
Via: Mike Cane