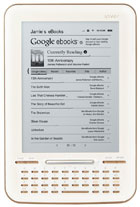 The iriver Story HD is the first 6-inch ebook reader to use a XGA 1024 x 768 resolution screen, and it's also the first ereader to come with the Google ebookstore onboard.
But is that enough to make the Story HD a true competitor against the likes of the Kindle, Nook, Kobo, and Sony Readers?
Here's the link to the iriver story HD review for the answer. As usual the review includes an in-depth video walk-though and several pictures. The video also briefly compares the Story HD with the Kindle 3 and new Nook Touch.