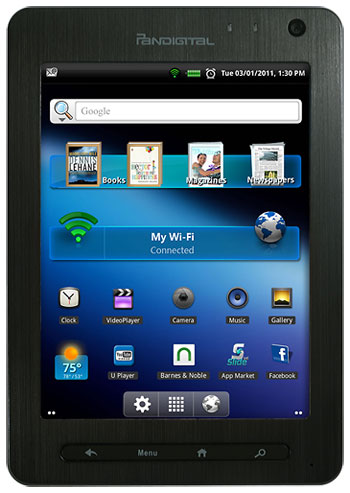 Pandigital has another new ereader on the loose, this one is called the Pandigital Nova. It is nearly identical to the Pandigital Planet that was also recently introduced, but there are a few subtle differences.
For one, the Pandigital Nova comes with 2x more internal memory, 4GB, and it runs Android 2.3 instead of 2.2. The camera is above the upper-right of the screen instead of centered, and the home and back buttons are swapped. Other than that they look like twins and the specs appear to be pretty much the same.
According to the listing at Best Buy, the Pandigital Nova has a 7″ TFT-LCD 800 x 600 screen, front and rear facing cameras, Wi-Fi, 800MHz processor, microSD card slot, mini USB port, and micro HDMI port. It says that it uses an ActiveTouch screen, which is a resistive screen with multi-touch support.
Like its predecessors, it comes with the Barnes and Noble Nook software built-in for purchasing and reading ebooks from B&N. It's also able to install a number of other ereading apps thanks to the open Android 2.3 software.
There's not really any additional information available yet. The Best Buy listing is low on details and the Nova isn't showing up anywhere else just yet, not even on Pandigital's own website. But it will no doubt have the same apps as the Pandigital Planet, which means no Android Market access without a hack.
It's not unusual for Pandigital to release a number of devices with minor differences. It makes everything nice and confusing. Recently the Pandigital SuperNova passed through the FCC. It has pretty much the same exact features as the Nova but is supposed to have an 8″ screen. Maybe it'll show up on some website next week.