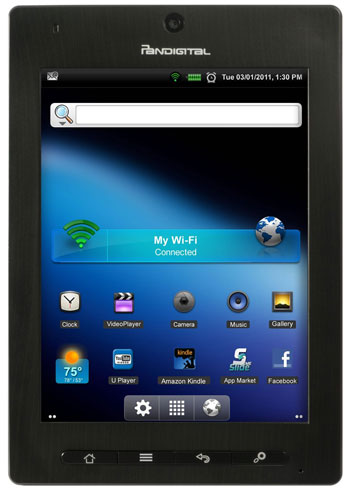 The Pandigital Planet is the latest addition to Pandigital's ever-growing line of inexpensive Android tablets and ereaders. It is similar to the earlier models offered but adds some interesting new features to make it more relevant for 2011.
For starters, the Pandigital Planet runs on a newer operating system, Android 2.2, and it brings some hardware upgrades with the addition of an HDMI port, microphone, rear and front facing cameras for capturing pictures and videos, and new Android buttons for Home, Search, Back, and Menu.
Otherwise its main features are mostly the same as the other Pandigital Novels. It has a 7″ TFT LCD resistive touchscreen, WiFi, 2GB of internal memory, an SD card slot for cards up to 32GB, headphone jack, built-in speaker, and can play videos, games, music, browse the web, send and receive email, get weather updates, etc.
Unfortunately it doesn't look like it has Android Market access. It comes with the SlideMe app for installing apps instead.
One interesting detail about the Pandigital Planet is that there appears to be two different models. The one at Amazon shows it coming pre-installed with the Kindle Android app, and the one listed at Sears shows it with the Barnes and Noble ebookstore—same goes for the one shown on Pandigital's website.
Given the fact it is open to install third part apps, that doesn't really make much difference, but it is the first time they've offered a Kindle-powered version, all the others have connected to B&N.