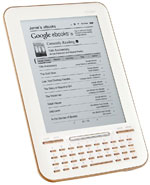 Today I turned on my iriver Story HD and it detected a firmware update. The update is version number 1.19. The previous firmware version was 1.17 (so what happened to 1.18?).
I've gone through all the features of the Story HD and haven't noticed any changes with this new firmware, and there's no changelog to be found anywhere. It must be a minor update that works behind the scenes, fixing bugs. It seems like the Story HD might be loading and reacting a little faster but it's hard to tell for certain.
I was hoping to find some new settings for modifying layout and text in the menu, but unfortunately that's not the case. I was hoping they would add some note taking features as well, but no, the keyboard remains pretty much useless except for running searches in the Google ebookstore.
All iriver needs to do is add some additional features to the Story HD to make it a really good ebook reader, instead of a bare-bones basic one. Add some different font choices, in book searching, line spacing and margin settings, allow readers to add highlights and notes. Do that and a heck of a lot more people would be interested.
It's going to be an uphill battle against all the new touchscreen ebook readers like the Nook and Kobo and upcoming Kindle without adding the basic features that all of those offer.
Hopefully the next firmware update brings more to the table or the iriver Story HD is going to be doomed to a paltry existence.