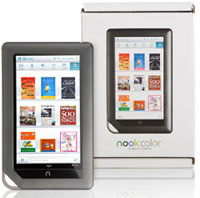 Barnes and Noble has cut the price on refurbished Nook Colors by $20, marking them down to $179 both on B&N's eBay store and on Barnes and Noble.com.
Since the new Nook Colors regularly sell for $249, a $70 discount for a factory refurbished unit with free shipping and a full 1 year warranty is a pretty good deal, but it also makes you wonder if Barnes and Noble is getting prepared to release a new Nook Color later this year.
Under normal circumstances I'd say that there's no chance B&N would create and put out another Nook Color this year. After all, they are not an electronics company, they are a book-selling company. Furthermore, it took them a full year and a half to release a new E Ink Nook, and the Nook Color won't be one year old until the end of October.
But with Amazon getting set to announce a new Android tablet or two, and with all the newer Android tablets hitting the market with faster processors and lower prices, perhaps Barnes and Noble will indeed release a Nook Color 2 before Christmas. If not, they are going the have a hard time competing against all the new shiny tablets with superior hardware and software.
That's the thing with tablets. They are constantly evolving. Last year's models are already becoming dated. The Nook Color has held its ground very well thus far, but that could start to slip really fast if Amazon releases a tablet in the same price range with superior specs, a scenario that I think is highly likely.
One upgrade the Nook Color could really use is a faster processor. It currently runs a single core Texas Instruments ARM Cortex-A8 chip at 800MHz. Last year that was pretty good for a 7″ tablet. Now there are dual-core and even quad-core Nvidia processors that are much, much faster and more energy efficient.
Other than performance enhancements, what else could B&N change about the Nook Color? Thinking on it, that's a tough question to answer. Since it is designed for reading first and a tablet second, it's hard to see B&N changing stuff that doesn't enhance the reading experience, so perhaps a new Nook Color isn't going to happen this year. What do you think?
Update: Buy.com is selling refurbished Nook Colors for $169.