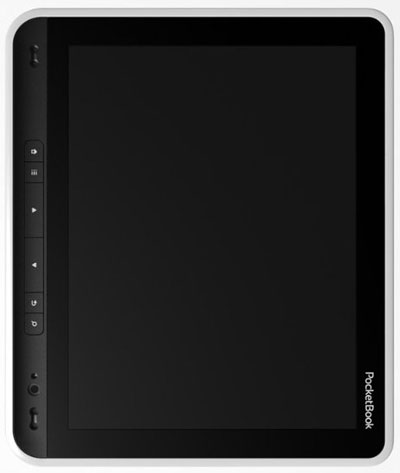 PocketBook showed off a new 10″ Android tablet at IFA that is getting set to be released in October/November. It is PocketBook's second Android device, the first was the PocketBook IQ that was released about the same time last year.
The PocketBook A10 runs Gingerbread (Android 2.3.4) and even comes with Android Market access. PocketBook opted to go with a 4:3 screen ratio so that it is more suited for reading ebooks, PDFs, and digital magazines.
The A10 is a nice-looking tablet with its unique airplane wing inspired design. It is thicker on one edge and tapers down. Plus it has extra hardware buttons for turning pages with PocketBook's built-in ereading program.
Good thing it has looks because when it comes to specs, the PocketBook A10 doesn't really have anything that stands out.
PocketBook A10 Specs and Features
Screen: 10″ capacitive TFT, 1024 x 768, 262,000 colors
Processor: 1 GHz TI OMAP 3621
Android 2.3.4 (won't be updated to Honeycomb)
4GB internal storage
512MB memory
MicroSD card slot, cards up to 32GB
Micro USB port
3.5mm headphone jack, built-in speakers, microphone
Wi-Fi b/g/n, Bluetooth, optional 3G
Front-facing 2MP camera
Battery: 6600mAh, 6.5 hours (guy in the video says 8 to 8.5 hours)
Text-to-speech
ABBYY Lingvo dictionaries
500 free classic ebook pre-installed
Video: AVI, MKV, MP4
Audio: MP3, WAV
Images: JPEG, BMP, PNG, TIFF
eBooks: PDF (ADOBE DRM), EPUB (ADOBE DRM), PDF, EPUB, FB2, TXT, DJVU, RTF, HTML, DOC, DOCX
Dimensions: 207 x 244 x 15 mm
Weight: 670 grams
The PocketBook A10 should be hitting shelves in Europe in October or early November, with a price tag of about €299. The company is expected to release a 3G model as well for about €100 more. The A10 will likely be coming to the US and Canada too, probably for about $299.
PocketBook A10 at IFA
Video via
Specs via