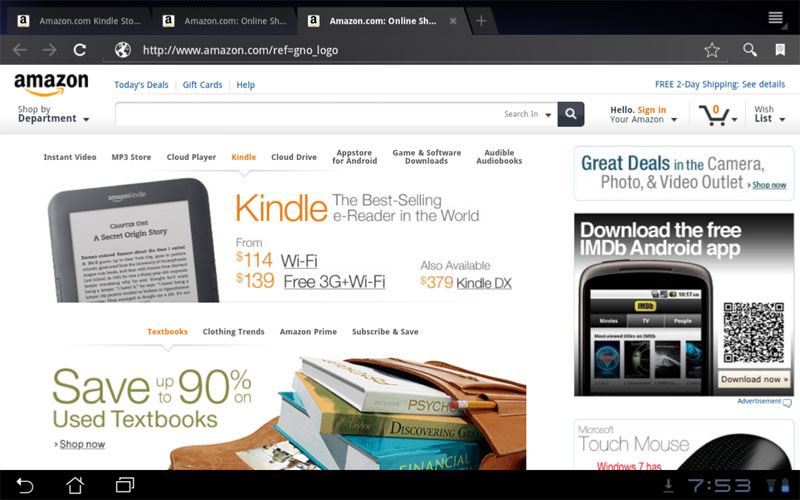 Earlier in the week, a number of websites reported on a story that Amazon is testing out a new tablet-friendly website design to make browsing from tablets easier, more specifically the upcoming Kindle tablet.
For whatever reason, this new website design automatically shows up when using the Asus Transformer's Honeycomb browser, as I happened to discover yesterday. The strange thing is, I tested it with an iPad and several other Android tablets and the new design didn't show up with any of them, not even the Notion Ink Adam's Honeycomb browser.
One thing is certain: the new design is most definitely tablet-oriented. Take a close look at the screenshot above (click it for big). Every single link on the top row links to digital content consumable on a tablet. And the same holds true when you click the shop by department link, all the digital content tops the list, Amazon's instant videos, MP3 store, cloud drive, Kindle store, Android apps, digital games and software, and audiobooks.
Further evidence, when you click the search bar to enter a search term, a window shows below the search bar listing the free Android app of the day, the free song of the day, and Daily Deals.
Other changes include the removal of the left navigation from the homepage, a larger search bar, the top menu is more spread out and finger friendly, and a lot of the orange and blue colors have been removed in favor of white and light gray for a cleaner look. For the most part, product pages and the overall layout remains the same. The biggest changes are to the homepage and the top navigation bar.
The fact that the new website design is starting to roll out, at least on a limited basis, suggests that the big announcement for the Kindle tablet is drawing ever so near. That along with the fact that Amazon has started to lower everyone's expectations about what the Kindle tablet will be. Don't think so? The controlled release of information to TechCrunch last week certainly suggests so.
With everyone expecting the Kindle tablet to be an iPad killer, Amazon let the details leak in order to bring down people's expectations that it's not going to be anywhere near the level of the iPad. Not this model anyway, perhaps their 10″ model slated for next year can take on the iPad, but this one looks like it is going to be more like the Nook Color than the iPad.