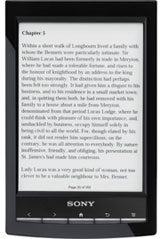 I just happened to notice that Newegg has all three colors of the new Sony Reader WiFi up for pre-order, including the so-called Pottermore Edition.
As expected, they are selling for the price of $149, and come with free shipping. This is the first retailer to start selling the new Reader Wi-Fi, but not the first to list it.
The black model also shows up at B&H. It's been there for several days now, but isn't up for pre-order yet; instead you can sign up to be notified when it is available. Sony doesn't even have a product page for the PRS-T1 on their website yet, just this place-holder page that for some reason has different pictures than it did a week ago.
The Newegg listing also reveals a release date of October 2nd for the new Sony Reader. Sony hadn't mentioned any specific release date yet, just that it would be available in October. If the Newegg info is accurate, we won't have to wait very long into October at least.
One interesting detail, if you want to get the Pottermore Edition that comes with the free Harry Potter ebook, the first book in the series, you have to buy the black model because it's the only one that comes with the voucher. Why they decided to punish Harry Potter fans who want a white or red ereader instead is anyone's guess. Sony does the strangest things sometimes.