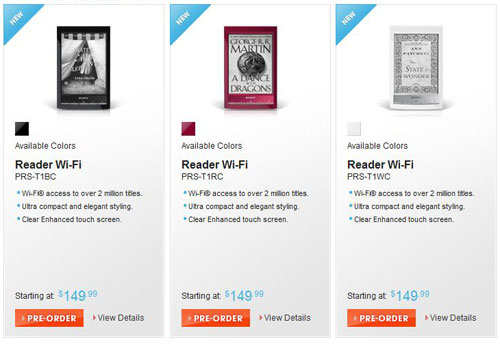 Although I've yet to receive an email from Sony after signing up to be notified, Sony is now taking pre-orders for the Reader Wi-Fi from their website for $149 with free shipping.
They have covers for the Reader Wi-Fi too. The regular covers are $34.99 and the lighted covers are $49.99. The covers come in three colors to match each Reader. The Reader Wi-Fi and covers both indicate they will be available on or around October 2nd, a Sunday (nice way to commit on a date, Sony).
Sony has also put up new Reader Wi-Fi product pages for each color, red, black, and white. These pages have all the specs and product details, but surprisingly there's really not any new information that we already didn't know. Unfortunately they don't have the user manual up for the PRS-T1 series yet—that's sure to reveal new juicy details.
I went ahead and ordered a black unit and a lighted cover, so stay tuned for the upcoming review, and hopefully an Android root tutorial :).