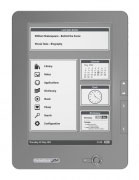 Earlier in the month at IFA, PocketBook announced two new ebook readers, the PocketBook Pro 912 and PocketBook Pro 612, in addition to the A10 Android Gingerbread tablet.
Both new PocketBook ereaders are going to replace the PocketBook 903 and 603 that were never released in North America because PocketBook couldn't work out the 3G wireless feature with any wireless carriers. The 903 and 603 will continue to be sold in Europe, however.
Aside from the lack of 3G, the PocketBook 912 and 612 will be the same as the 903 and 603, meaning they have the same feature-set and use Wacom touchscreens, unlike the PocketBook 902 and 602, which are pretty much exactly the same too, but don't have touchscreens. Confused yet? Me too.
Here's the specs for the new models:
PocketBook 912: 9.7″ E Ink Vizplex screen
PocketBook 612: 6″ E Ink Vizplex screen
Wacom Penabled touchscreen
CPU: 533 MHz, 256 MB Ram
Wireless: WiFi (802.11 b/g) + BlueTooth
2GB memory
Micro SD
Notes, highlighting, bookmarks, dictionaries, search
Text-to-Speech
Headphone jack, 2 speakers
Audio player
Accelerometer
Battery life: 7000 pages
Replaceable battery
Formats: PDF (ADOBE DRM), EPUB (ADOBE DRM), PDF, EPUB, FB2, TXT, DJVU, RTF, HTML, CHM, DOC, DOCX, TCR, FB2.ZIP
There's no word yet on pricing or availability, but they should be arriving before the end of the year.