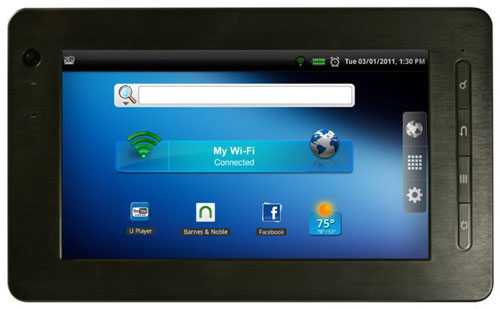 The Pandigital Star just turned up today on the QVC website. It's the fourth different tablet from Pandigital in the past few months.
At $139, the Pandigital Star is the least expensive of the bunch. It's pretty much exactly the same as the Pandigital Planet and Pandigital Nova, combining elements from both of them. The main difference is that it lacks a rear camera and has a narrower screen.
Instead of having a 7-inch 800 x 600 resolution screen, the Planet has a 7-inch 800 x 480 resolution display, widescreen rather than 4:3. Like the others it uses a resistive touchscreen that supports multi-touch.
The Pandigital Star runs Android 2.2 and comes with the GetJar app for installing apps. It comes with the Barnes and Noble ereading app pre-installed for downloading ebooks, magazines, and newspapers from B&N. The app also supports EPUB and PDF files. A number of other Android apps can be installed as well.
Pandigital Star Specs
7″ ActiveTouch TFT LCD display, 480×800 resolution
Android 2.2 operating system
Pandigital PAN8006 Cortex 800 MHz Processor with 3D GPU
2GB internal storage
256MB internal memory
Supports microSD cards up to 32GB
Barnes and Noble eBooks
Wifi (802.11 b/g/n)
Micro-HDMI port
Mini-USB 2.0 Host/OTG
VGA front facing camera
Built-in speaker, mic, headphone jack
Backlit Android buttons
2 axis accelerometer
Rechargeable Li-ion battery 3400mAh/3.7V
Dimensions: 7.9″ x 4.75″ x 0.5″
Weight: 12.8 ounces
The Pandigital Star starts shipping on September 30th from QVC. Expect it to start showing up at a number of other retailers in October.