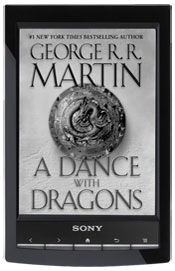 The black Sony Reader Wi-Fi is now officially "in stock" at Sony.com and has just started shipping today (I just got my shipping notice!).
The red and white models, however, have been pushed back to an October 16th release. They were initially listed as being available on October 2nd, the black model was too, so hopefully those that pre-ordered one early got a shipping notice today too or will be getting one soon.
I also ordered a lighted cover but that hasn't shipped yet. You'd think that they would come together in the same box, but apparently not.
Unfortunately it looks very much like Sony is going blunder the launch of the Reader Wi-Fi quite fantastically by not having enough stock to go around. The same thing happened last year so I guess it shouldn't be surprising. Hopefully they'll at least manage to have some available for Christmas this year.
The Sony Store in Canada had the Reader Wi-Fi up for pre-order for awhile, but now it's been demoted to "Notify Me". The UK Sony Store has all three up for pre-order now, but no release date is given. Newegg can't decide if they have any in stock or not, the models available seem to fluctuate each day.
And what ever happened to the Pottermore Edition? The black Reader Wi-Fi was supposed to come with a voucher to download the first Harry Potter ebook for free, but now there's no longer any mention of it anywhere on any of the websites. Newegg initially sold the Pottermore Edition, but now their listing says nothing of it either. If Sony was smart, they'd give the voucher to everyone who orders a Reader Wi-Fi, but that's a big if.
Update: That figures. Shorty after posting this article the black Reader Wi-Fi went back to pre-order for an October 2nd release :(. It looks like Sony is going to prove my botched release theory to be true.